Class locations:
---

---
Class requirements and information:
COST: $199* 

Non-Indiana residents $329




*Must have an Indiana drivers license to qualify for resident rate.





INCLUDES:

Loaner motorcycle (250cc max.)
Classroom materials

One year membership to ABATE of Indiana**

One year subscription to "Hoosier Motorcyclist" magazine

No cost $3500 Accidental Death & Dismemberment Policy

Free legal assistance with ABATE Legal Services

Motorcycles are provided for this class.

Must have Indiana drivers license to qualify for resident rate
(out-of-state $329)

------ CLASS SCHEDULES SUBJECT TO CHANGE -----




 

ABATE of Indiana Rider Resource

 

Download a digital copy of the classroom student booklet here

 

 

Students successfully completing the course will receive a waiver to obtain your endorsement

 

 

 

 Indiana Bureau of Motor Vehicles 
Ride Safe Indiana 
 > > >  APPROVED  < < <

 


         Click here for a printable registration form.
ABATE of Indiana is pleased to announce that a contract has been signed with the Indiana Bureau of Motor Vehicles (BMV) to participate in the Ride Safe Indiana Program. The BMV will recognize the Basic Rider Skills (BRS) course offered by ABATE, allowing students to obtain a motorcycle endorsement on their license. This curriculum has been reviewed by the National Association of State Motorcycle Safety Administrators (SMSA) and found to meet the Model National Standards for Entry-Level Motorcycle Rider Training as developed by the National Highway Traffic Safety Administration (NHTSA).
---
*Must have an Indiana drivers license to qualify for resident rate.
**Current ABATE of Indiana members get one year added to their membership.
***The State of Indiana requires that you must have an Indiana operators license in order to obtain your motorcycle endorsement.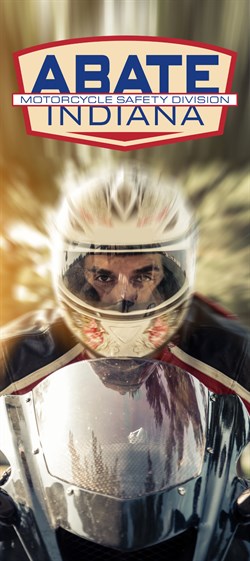 About the class

The Basic Rider Skills (BRS) class can take anywhere from 15 to 20 hours to complete depending on weather, overall class progression and other factors. The BRS consists of classroom and on-cycle training, and can be completed in one weekend or four to five weekdays.
The course is intended to help you acquire the basic knowledge and skills needed for safe and responsible motorcycle operation. The course will help you:
Learn the mental skills for safe motorcycling.
Understand the risks associated with motorcycling.
Identify and develop strategies to manage risk.
Understand how your decisions affect your ability to ride safely.
Gain the physical skills for safe motorcycling.
Develop the basic skills needed to ride in a straight line, shift, turn, and stop the motorcycle.
Improve basic cornering and braking skills.
Practice braking and swerving skills needed for emergency situations.
The goal is to help you be successful and safe. Ask lots of questions. Our ABATE of Indiana instructors will help you discover the answers. Concentrate on developing your skills and your strategies — the first steps to riding safely!
---