Hoosier Motorcyclist | Advertising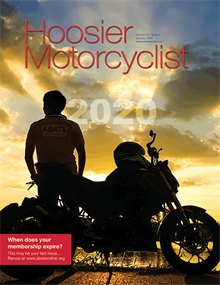 Submitting Material
Deadline is the first of the month before issue date (i.e. January 1 for February issue). Must be postmarked, faxed (317-422-8373), or e-mailed by the first.
Mail your submission to:
Hoosier Motorcyclist
PO Box 665 (51 North Baldwin Street)
Bargersville, Indiana 46106
Anyone can submit --- Directors must!
Writing
Write clearly and neatly.

Make deadline or your letter will be held until next month.

Give times, dates, locations and names of events.

ALWAYS be positive.

Always read what you have written.

Recognize people who've helped.

Remember that your letter will be read one month later.

Try to keep it clean. No profanities.
Upcoming Events Pages
All flyers (requested or sent in) will be included.

If you don't have a flyer, send in request for information to be included.

Sanctioned events and charities accepted.
Meeting/Event Listing
Submit written request to have them listed. By mail or fax. (Include: Who, what, when, where, time and phone # only.)

Doesn't reflect "Upcoming Events" pages.

If meetings are the same every month, they will be carried over until notified of change.

Sanctioned events and charities only.

Same deadline applies. (First of the month.)

Write very clearly.

Leave one inch on all four side of paper.

DO NOT use colored paper or pencil.

Include: who is sending, what it's for, and a phone number

Fax number 317-422-8373

Call after faxing to make sure we received it and it is legible.
E-mailing Information
Same deadline applies. (First of the month.)

E-mail address: hmc@ABATEonline.org

Save as text only or type into e-mail letter.

When typing, always to remember to:

Single space between sentences.

Return twice between paragraphs.

Do not add formating --- I will format.
Photo Submissions
Color or black and white prints only. No slides or negatives.

We will print any ABATE event (with good photos). Good photos are clear, focused, and easy to see people or subjects.

Include with photos: Who, what, where and when.

Can also include: What happened, winners/events, etc.

Send photos of events no more than two months old.

Send all photos. We will send them back undamaged.

Include who took the photos.

Include address where photos should be returned to.