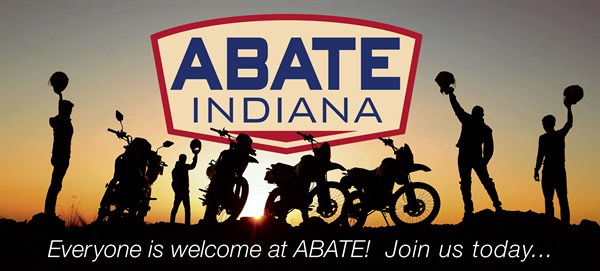 MISSION STATEMENT: ABATE (American Bikers Aimed Toward Education) of Indiana is a not-for-profit, safety, educational, charitable, and advocacy motorcyclist organization. Its aims are to promote safety, protect rights and help others.
ABATE of Indiana is the nation's largest state motorcyclists' rights organization. ABATE has a full-time staff, around 150 volunteer officers, and over 100 certified safety instructors, dedicated to serving the interests of all motorcyclists.
[ABATE of Indiana was officially started on June 25, 1975]
Accomplishments
ABATE of Indiana's motorcycle safety program has received numerous national awards of excellence and many of the instructors have received the nation's highest honors. Over 140,000 students have been trained since its inception in 1979. In 1986, the Indiana Department of Education became involved with the program, resulting in a dramatic decrease in motorcycle fatalities which continues today.
ABATE of Indiana has been the driving force in making May "Motorcycle Safety and Awareness Month" and is responsible for the distribution of over 600,000 bumper stickers promoting motorcycle awareness.
In 1976 ABATE was responsible for the repeal of the state's mandatory helmet law and continues to defend the equal rights of motorcyclists - preserving their freedom of choice. ABATE of Indiana believes education, not legislation, is the key to creating a safer environment for motorcycling.
In addition to promoting motorcycle safety and education, ABATE has also been involved with collecting money for charities and those in need. Over the years, ABATE has raised over $4,250,000 for the Muscular Dystrophy Association, tons of food and truckloads of toys are donated each year at Christmas time, through toy collection programs. In addition, ABATE has contributed over $70,000 to community charities and has been instrumental in raising over $6,969,712 for Riley Hospital for Children in Indianapolis.
Benefits of Membership*
ABATE of Indiana members receive many benefits including:
A membership card.

FREE ABATE patch for your first year, and a year pins thereafter.

FREE motorcycle awareness bumper sticker.

One year subscription to "Hoosier Motorcyclist" magazine.

One free personal classified ad in the magazine and on the website every month.

ABATE Legal Services - provides 24 hour, nationwide accident investigation teams. With attorneys who ride and believe in motorcyclists' rights and life-style.

Insurance discounts through ISU Underwood Insurance Agency -- offering ABATE members the absolute lowest insurance rates, for even the hard to insure motorcycle and rider.

No Cost $3,500 Accidental Death and Dismemberment benefit for ALL active members through American Income Life Insurance.

Reduced admission to over 100 ABATE of Indiana sanctioned events every year, including the world-famous Boogie (known as "the Midwest's Best Biker-Fest"), many motorcycle swap meets, bike shows, bike runs, hog roasts, and more. A weekend hardly goes by without an ABATE sanctioned event occurring somewhere in the state. There are events for adults as well as families.

Motorcycle Rider Education Classes -- ABATE offers one of the highest-rated rider education programs in the country. Using a nationally recognized curriculum, this program instructs beginning and/or experienced motorcyclists to ride with tremendous confidence.
Discounts from select supporting businesses.
*Subject to change. All rights reserved.