ABATE of Indiana's Motorcycle Safety Division is proud to offer off-road rider training.
The Dirt Bike School was developed by the Motorcycle Safety Foundation and has been used to prepare peace officers and military personnel in the safe operation of off-road motorcycles for years.
---

Riders start with the entire time spent performing hands-on training on the motorcycles. At the end of the school, students should have an understanding of the techniques necessary to stay safe, act responsibly and have fun while riding off-road motorcycles.
Many manufacturers offer incentives including reimbursement for Dirt Bike School tuition.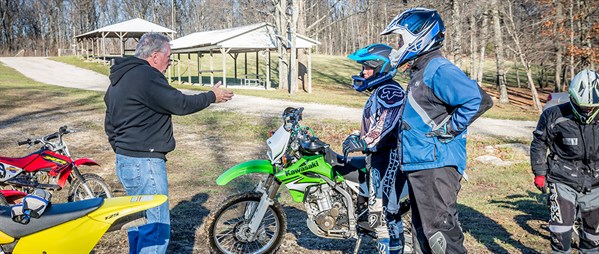 ---
Open to children as young as 6 years old
Since children as young as six years of age can enroll, the Dirt Bike School provides an opportunity for the entire family to participate in this exciting learning experience.
Most students prefer to use their own equipment, however loan motorcycles and gear may be available.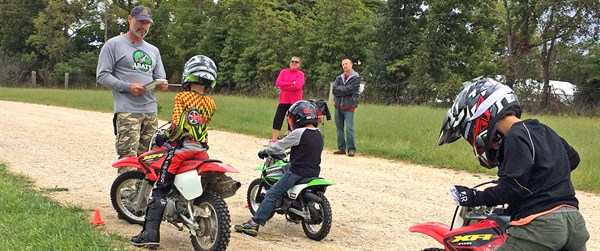 PREREQUISITES FOR CLASS: Ability to ride a bicycle.
REQUIRED RIDING GEAR: Helmet, full-finger gloves, sturdy over the ankle boots, long pants without holes, long sleeve shirt or jacket and eye protection.
BIKES AND HELMETS: Some loaner bikes and helmets may be available at no additional cost. If available, you are encouraged to bring your own bike and helmet to ensure proper size and fit.
COST:     $75 Ages 6-15
6-11 year olds can only enroll in class with other 6-11 year olds, unless enrolled in a family class. 
Maximum number of 6-11 year olds in a class is 4.
$100 ages 16 and up. 
$300 family of 4, $60 per each additional student.
Groups or families of four or more, please call 800-232-2283 to schedule a date.
---
2019 Dirt Bike School Schedule
LAWRENCE COUNTY RECREATIONAL PARK
•  March 2
•  March 3  (ages 16+ only)
•  April 13  (ages 16+ only)
•  April 14
•  May 4 (ages 12-15 only)
•  May 5  (family/group)
•  June 8  (ages 16+ only)
•  June 9  (ages 6-11 only)
•  June 29  (ages 16+ only)
•  June 30  (family/group)  SOLD OUT
•  September 7 (ages 16+)
•  September 8  SOLD OUT
•  October 5  (ages 6-11 only)
•  October 6  (ages 12+ only)  SOLD OUT
 
WABASH CANNONBALL
(Wabash Cannonball is located at 636 W 250 S, Wabash, IN 46992)
May 18
June 22  (ages 12-15 only)
June 23  (ages 16+ only)
August  24  SOLD OUT
August 25 (ages 6-11 only)  SOLD OUT
September 21 CANCELLED
September 22  (ages 16+ only)

October 19  CANCELLED

October 20  (ages 

6-11 only)



Class time:               Class sign-in begins at 8:30 a.m., classes 9:00 a.m.-4:00 p.m.
Class Location:           Lawrence County Recreational Park, Springville, IN
Class Location:           Wabash Cannonball, Wabash, IN
Registration form:    Click to download
Class dates may be limited to specific age groups.  Please call for availability 800-232-2283 or email dbs@ABATEonline.org