Learn to ride from the people who have been training for four decades 
Our Basic Riding Skills (BRS) course is intended to help you acquire the basic knowledge and skills needed for safe and responsible motorcycle operations. 
For newer riders and those wanting to learn how to ride
Classes can take anywhere from 15 to 20 hours to complete depending on weather, overall class progression, and other factors. The course consists of an online classroom (held through Zoom) and on-cycle training, and can be completed in one weekend or four to five weekdays. 
The course will help you:
Learn the mental skills for safe motorcycling
Understand the risks associated with motorcycling
Identify and develop strategies to manage risk
Understand how your decisions affect your ability to ride safely
Gain the physical skills for safe motorcycling
Develop the basic skills needed to ride in a straight line, shift, turn, and stop the motorcycle
Improve basic cornering and braking skills
Practice braking and swerving skills needed for emergency situations
Our goal is to help you be successful and safe. Ask lots of questions. Our ABATE of Indiana instructors will help you discover the answers. Concentrate on developing your skills and your strategies -- the first steps to riding safely!
Motorcycles and classroom materials are provided to all students.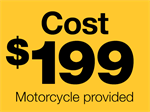 Must have Indiana drivers license to qualify for resident rate (out-of-state $329)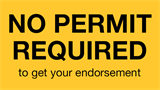 Students successfully completing the course will receive a waiver to obtain your endorsement.