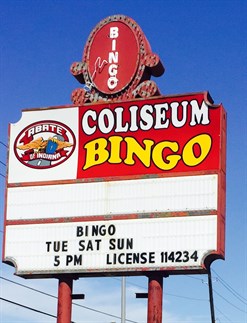 Freedom Hall: Home of ABATE of Indiana's Coliseum Bingo
ABATE of Indiana's Freedom Hall is a 22,000 square foot building in Fort Wayne that is home to ABATE's corporate offices. Feature a large banquet area, stage, full-service kitchen, meeting rooms, and a large, well-lit parking lot. The building can accommodate up to 600 people.
ABATE of Indiana's Freedom Hall is also home to Fort Wayne's famous Coliseum Bingo. Ranked as the third largest bingo hall in the state for the past three years. it's also one of the largest contributors to charities in the state, such as MDA, and Riley Hospital for Children.

 Like Us on Facebook! 
Regular payouts of $6,000 each night with semi-annual $10,000 nights. The bingo hall offers a comfortable gaming environment for young and old. The hall also offers a frequent gaming card where participants can earn free games.
Reasonably priced, hot food is offered nightly for the participants.
Freedom Hall is capable of hosting large parties, banquets and special events, in addition to the gaming activities. If you would like to book this outstanding hall, please call 260-490-9999 for more information.
Freedom Hall is located at 911 West Washington Center Road, in Fort Wayne (just off I-69 and Lima Road).
Hours: Tue: 5:00 pm - 10:00 pm, Sat-Sun: 5:00 pm - 10:00 pm