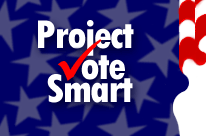 Project Vote Smart Resource Center provides information on the following topics:
Biographical Information | Voting Records | Issue Positions | Interest Group Ratings | Public Statements | Campaign Finances | Voter Registration | Ballot Measures | Issues and Legislation | Political Resources
Project Vote Smart
Thousands of candidates and elected officials. Who works for you? Who is seeking your vote? Project Vote Smart, a citizen's organization, has developed a Voter's Self-Defense System to provide you with the necessary tools to self-govern effectively: abundant, accurate, unbiased and relevant information. As a national library of factual information, Project Vote Smart covers your candidates and elected officials in five basic categories: biographical information, issue positions, voting records, campaign finances and interest group ratings.