Advertising | Submissions & Deadlines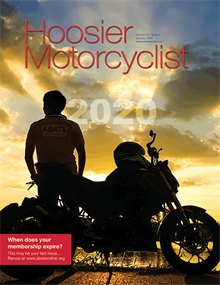 Hoosier Motorcyclist magazine is a monthly newsletter produced by ABATE of Indiana, Inc. for it's members. Each issue contains motorcycling news from across the state and the nation, with a focus on the Indiana motorcyclist.
We try to cover all apsects of the motorcycling community, but rely on the voluntary submissions from the ABATE population.
None of the editorial content is paid for, all opinions are just that - opinions. ABATE of Indiana tries to give an open forum for discussion and provide information to the readers/members.
Hoosier Motorcyclists' monthly features include: Motorcycle Riders Foundation news; American Motorcyclist Association news; "Soul Maintenance" spiritual enlightenment; classified ads; Regional News; news from across the continent; photos from ABATE events throughout Indiana. With a readership of approximately 30,000, Hoosier Motorcyclist magazine is the nation's most widely read state motorcyclists' rights monthly newsletter.