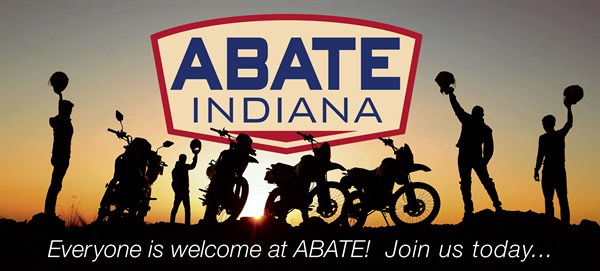 Please consider joining ABATE of Indiana! 

By joining ABATE of Indiana, you will enjoy the benefits of ABATE for a year and help  us serve the Indiana motorcycle community.
Your ABATE of Indiana membership includes the following*:
A membership card.
FREE ABATE patch for your first year, and a year pins thereafter.
FREE motorcycle awareness bumper sticker.
One year subscription to "Hoosier Motorcyclist" magazine.
One free personal classified ad in the magazine and on the website every month.
ABATE Legal Services - provides 24 hour, nationwide accident investigation teams. With attorneys who ride and believe in motorcyclists' rights and life-style.
Insurance discounts through Underwood Insurance Agency -- offering ABATE members the absolute lowest insurance rates, for even the hard to insure motorcycle and rider.
No Cost $3,500 Accidental Death and Dismemberment benefit for ALL active members through American Income Life Insurance.
Reduced admission to over 100 ABATE of Indiana sanctioned events every year, including the world famous Boogie (known as "the Midwest's Best Biker-Fest"), many motorcycle swap meets, bike shows, bike runs, hog roasts and more. A weekend hardly goes by without an ABATE sanctioned event occurring somewhere in the state. There are events for adults as well as families.
Motorcycle Rider Education Classes -- ABATE offers one of the highest-rated rider education programs in the country. Using nationally recognized curriculum, this program instructs beginning and/or experienced motorcyclists to ride with tremendous confidence.
Discounts from select supporting businesses.
*Subject to change. All rights reserved. 
If you have any questions, please call our offices at 800-232-2283 (Mon.-Tue.-Thur. 9AM-5PM, Fri. 9AM-6PM), or email us at abate@abateonline.org
************************************************************
SINGLE MEMBERSHIP
One-year single membership is only $25
COUPLE MEMBERSHIP
One-year couple membership is only $45
 ************************************************************
* * * Only VISA or MasterCard accepted * * *
Do you want to renew your current membership? CLICK HERE