Tour Indiana Program  ------  How It Works   ------  Dowload Tour Indiana Program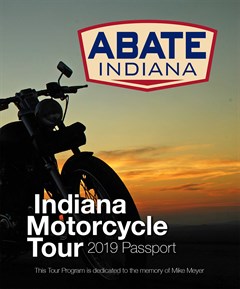 Eligibility
Any person with a passport, who can show proof of motorcycle ­license endorsement by sending a photocopy of their license with ­completed passport (passenger not required to have endorsement). Only one passport per person accepted.
Note: You don't need to send in your tour registration until AFTER you complete the program.
Couples
Couples (riding on the same motorcycle) must use separate passports to be eligible for prizes.
Completion Date
December 31, 2019 all passports and/or pictures must be ­post-marked by January 15, 2020.
Categories
There will be four categories for the tour; North, Central and South Point of Interest Tours, and the ABCs of Indiana Tour r.
Tour Patches
Tour patches will be awarded to all participants.
Tour Indiana Program  ------  How It Works   ------  Dowload Tour Indiana Program